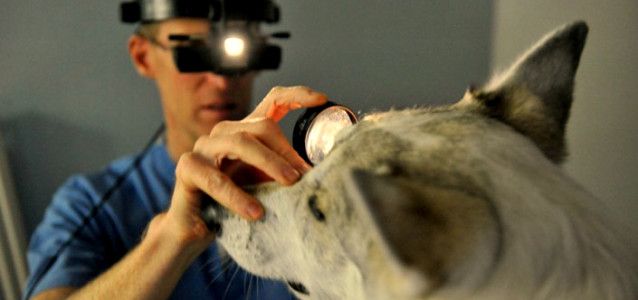 The binocular slit-lamp examination provides a stereoscopic magnified view of the eye structures in striking detail, enabling exact anatomical diagnoses to be made for a variety of eye conditions. The instrument can magnify frontal eye structure including the eyelid, sclera, conjunctiva, iris, natural crystalline lens by 10-40x, and is an essential tool for a complete ophthalmology examination. It is used in the diagnosis of congenital and acquired eyelid and eye deformities and diseases such as entropion, ectopic cilia, non-healing ulcers, cataracts, and glaucoma.
The tonometer is an instrument to measure the fluid pressure inside the eye. It is most helpful in evaluating the eyes in breeds of pets genetically prone to glaucoma, and certainly very important in all "Red-Eye" conditions.

To inquire about your pet's eye case, please call us at 416-690-0625 or email us at reception@vetstoronto.com.