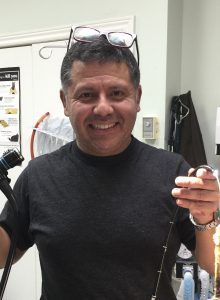 Dr. Edison Barrientos
Hello everyone. thanks for reading my bio.
It's hard to believe that it was 25 years ago that I graduated as a veterinarian from the Ontario Veterinary College at the University of Guelph.
Since I was a small boy I had a fascination with animals. I was always trying to convince my parents to accept a new pet that I had taken in or somebody was trying to give away. My collection of pets ranged from a chicken to a budgie, to a turtle, and of course a cat and a dog.
For the first few years of my career, I worked in a mixed practice in Alliston Ontario. My patients included cows, horses, pigs, yaks as well as dogs, cats and exotic pets.
After 7 years of honing my skills, I opened my own Veterinary Clinic. Dundas Euclid Animal Hospital in Toronto's West End. It grew very quickly and over the next few years my team and I opened 3 more animal hospitals in the downtown area. Kingston Road Animal Hospital is our 5th clinic in our group of clinics.
Being a veterinarian has been a wonderful career and I would do it again in a heartbeat. I particularly enjoy mentoring younger colleagues and students who have an interest in veterinary medicine.
On the personal side, I've been married to my wonderful wife Brigida Fortuna for 25 years and we have four great sons. We enjoy camping, bike riding, movies, downtown living, and our little hobby farm back in Alliston where my career began.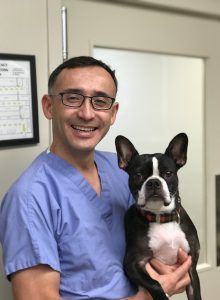 Dr. Oscar Albarracin
Welcome to Vets Toronto and thank you for your interest in learning more about us. I am a Canadian by adoption and a Colombian by birth. I love both countries and I have spent enough time in both to tell you that they are great places. I spent the majority of my youth in Colombia and I developed my love toward animals in my early childhood. As a child, I spent a lot of time with my father (who is also a vet) traveling around farms and helping a variety of animals. There were late nights during calving season and early mornings with birthing puppies and there was never a dull moment. I loved it! I fell in love with the feeling that I could not only be helping the animals return to a healthy life but also I could feel the owner's gratitude for our efforts. It is an amazing feeling that I could not find in other activities. It was then that I knew that I could not be wrong in choosing what I do. Many things have happened since then but the foundation has not changed and I am still passionate and in love with my profession.
While in Colombia, I grounded my roots in veterinary medicine (with my father as my personal mentor) at LaSalle University and I received my degree as Doctor of Veterinary Medicine in 1999. I soon knew that I wanted more. I decided to leave Colombia and further my education in North America. I studied English for a few years and then I got into a year-long fellowship program at the University of Florida, followed by a small animal rotating internship at Angell Animal Medical Center, WNE. These studies, as well as multiple continuing education courses and certificates, had made me highly competent in a broad range of disciplines.
Come to our hospital, let us meet you personally and become part of your community. We will be glad to provide your pet with our best advice and support. I will be one of the new Veterinarians and although my hours are limited in practice, our hospital philosophy will be noted in our whole staff.
Thank you for showing interest in Vets Toronto. Please visit us and let us know any suggestion that you may have to make out hospital better for you and your pets.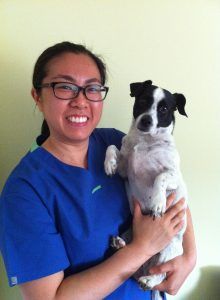 Dr. Yulien Sun
Medical Director & Principal Veterinarian
Born and raised in Toronto, Dr. Yulien Sun knew from a young age that caring for animals would be her life's calling.
She began in high school by volunteering at local animal hospitals and animal welfare organizations. In 2004, she graduated from the University of Guelph with a Bachelor of Science in Animal Biology and went on to complete her veterinary degree from the University of Melbourne in 2008.
Upon graduation, she honed her veterinary medicine and surgical skills through a rotating internship at the Veterinary Emergency and Referral Group (VERG) in Brooklyn, New York. She remained at VERG after her internship as their staff emergency doctor, furthering her interests in emergency/trauma, surgery, toxicology, and behavior.
Today, Dr. Sun brings her passion and experience to Kingston Road Animal Hospital to service The Beaches community. Providing well-rounded and integrative healthcare for animals is her top priority as the clinic's Medical Director.
She continues her education now in Traditional Chinese Veterinary Medicine and completing her certification in veterinary acupuncture.
Her daily work is aided by her four-legged sidekick, Ky, a self-assured and diligent Jack Russell terrier that keeps watch against the dangerous squirrels. When the pair are not at work, you will find them delighting in some of the city's culinary treats.
Dr. Kathiravelu Sathananthan – "Dr. Satha"
Doctor of Veterinary Medicine
Dr. Satha moved to Canada in 1984 and has been working in emergency medicine ever since. He grew up in a village setting which is where his strong animal connection began.
Both farm animals and companion animals were a big part of his life so his veterinary work helps him keep that bond alive and well. Dr. Satha shares his home with Ceyjay, a domestic short hair who seems to enjoy Dr. Satha's love of classical music, watching tv, and reading and doesn't seem to mind the interruption when it's time to help with household chores.
Dr. Satha also enjoys his half hour walk a day, jogging and modified yoga. But his real pleasure comes from listening to clients share stores of their pets.