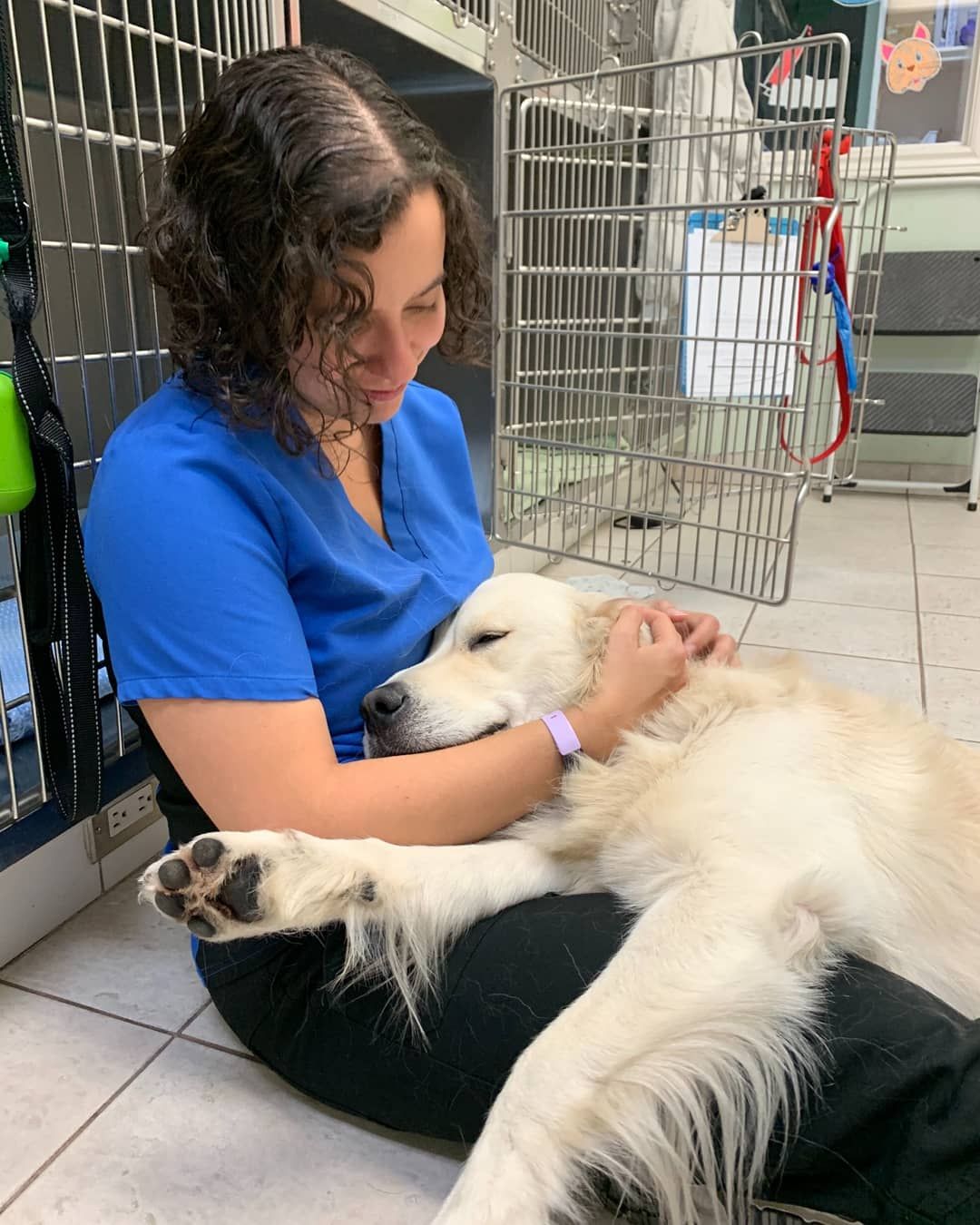 Dr. Lucia Delgado De La Flor
Medical Director & Principal Veterinarian
​​​​​​​
Hi! My name is Lucia Delgado de la Flor and I'm the new veterinarian and medical director here at VetsToronto Kingston Road Animal Hospital. I grew up in Peru's capital, Lima; a beautiful city by the sea filled with good people and even better food. I knew I wanted to be a vet since I was a little girl and spent most of my childhood chasing animals on my grandfather's farm or trying to get bandages to stick on the family dog. I went to one of the top schools in Lima and graduated third in my class in 2010 with an interest in small animal medicine and wildlife.
In 2012 I got married and soon after that my husband Alejandro moved to Canada. It took almost 2 years and even more sweat and tears, but by the end of 2014, I was licensed to practice veterinary medicine here in Canada. I have been happily working at one of our sister clinics since 2014 and in 2019 I got the wonderful opportunity to transfer here to VetsToronto.
I know the clinic has gone through a lot of changes in the last couple of years, but I'm fully invested in helping it reach its full potential with the help of our amazing team and, of course, our brilliant clients! I have a special interest in making every visit to the clinic stress-free and positive interaction for every patient as much as we possibly can because we love to see your pets and it's better when the feeling is mutual! Asides from being fear-free certified, I'm an expert in belly rubs, treat-giving, and cuddling, exclusively with patients. Also skilled in laser surgery, ultrasound, and (coming soon!) Endoscopy.
On a personal note, my husband and I own a beautiful grey and white leukemia positive cat named Abbey Road (or maybe I should say she owns us!) We also have a rescue dog named Calypso (rescued from the meat trade in Thailand) and a senior hyperthyroid rescue cat aptly named Doctor "wait-for-it!". I look forward to meeting you and your family soon, even if it's just for a quick hello and a treat, please come say hi! :)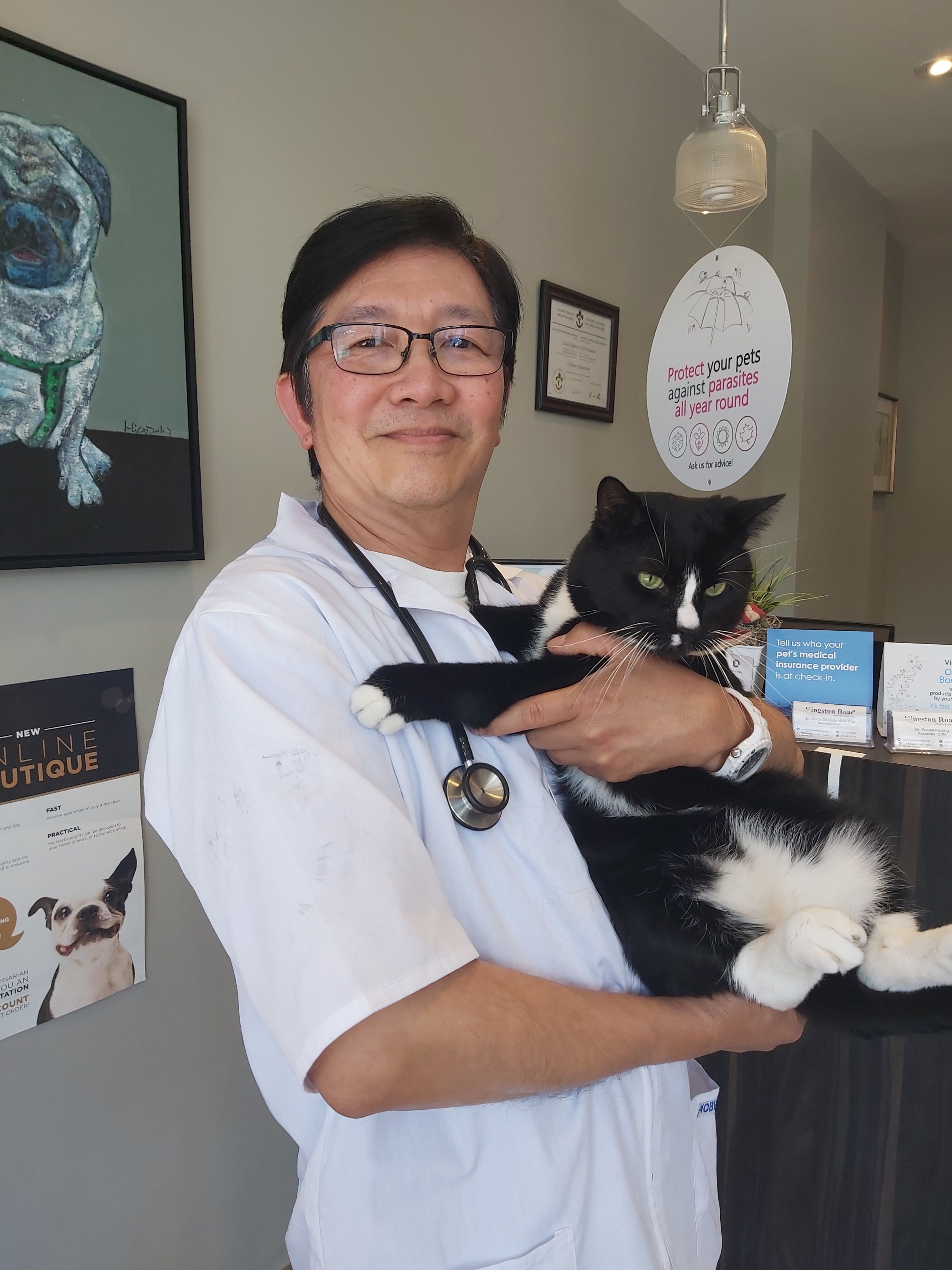 Dr. Ronnie Pusong
Associate Veterinarian​​​​​​​​​​​​​​


Growing up in the Philippines I have always been surrounded by pets like dogs and cats as well as farm animals every time I spent a summer vacation in my grandparent's place. And although I was not aware of how it would
influence me, I guess, it wasn't a surprise when I, later on, decided to pursue Veterinary Medicine. And as they say, the rest is history.

Prior to moving to Canada, I was involved in other fields of the veterinary profession. Aside from being a small animal practitioner during my early years as a vet, I was also involved in research in the academy. I also worked as a poultry and swine practitioner and for 7 years I lived and worked in Saudi Arabia as a dairy practitioner and also became a quarantine officer for the Ministry of Agriculture of Saudi Arabia. When I moved to Canada and after obtaining my license in 1996, I decided to work as a mixed animal practitioner in the Interlake region of Manitoba for a short period of time but eventually came back to Toronto to pursue the small animal practice. Vets Toronto Kingston Road Animal Hospital is one of the practices I worked with when I came back to Toronto. I also worked at the Vet Emergency Clinic of Toronto for 2 years before eventually joining Banks Animal Hospital as a full-time associate in Sept of 1999 and became a practice owner in 2004.

I enjoyed every case I encountered in practice, whether they are simple or challenging cases in dermatology, ophthalmology, internal medicine, or surgery. What I love about my job is I get to meet a lot of people and pets and experience with them the beauty of human and animal bonding. I myself have my own dog, Snoopy, who is now in his senior years. In my free time, I love cooking and baking for my two boys who are both in their 20's. I love communing with nature, as well as gardening, and always look forward to my regular visits to some of the beautiful parks in our city.